Monday September 10th, 2018
Aristide is a graduate of the Institut des Hautes Etudes en Management of Abidjan (Ivory Coast).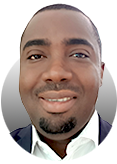 He joined Pixafrica after more than 12 years spent in business development, management, strategic project management and marketing, innovation marketing and Go to market in market-leading companies such as Orange Cote d'Ivoire (Ivory Coast cluster, Liberia and Burkina-Faso).
For more informations:
* These fields are required.
About Pixafrica: Pixafrica is the African subsidiary of Pixagility. Based in Abidjan, Pixafrica works for television channels, telecom operators and Internet players wishing to implement innovative new audiovisual services.