Monday May 28th, 2018
To meet the growing demand for television channels in Africa, Pixagility's subsidiary Pixafrica has just deployed a robust and scalable full IP playout infrastructure provided by equipment manufacturer Harmonic in its highly secure data center.
This infrastructure has a capacity for over twenty SD and HD channels that can then be delivered to operators worldwide thanks to Pixagility's points of presence (Paris, London, Miami, Toronto, etc.).
To this end, Pixafrica has a technical team in Abidjan trained to operate the Harmonic broadcasting equipment and supported by Pixagility teams for programming, operation and supervision.
Pixafrica's main customers: Orange Côte d'Ivoire (TV package and VOD), Alshana (playout), Canal+ (IP contribution), Edan TV (playout and editorial animation), Startimes (IP contribution), DIFFA (video content preparation).

Come and meet Pixafrica at DISCOP 2018
Pixafrica confirms its 3rd participation at DISCOP Abidjan, a key event for all media actors in French-speaking Africa, from 28th to 30th May.
Ronan Lunven, President of Pixagility and Anatole Begouen, EMEA New Media Director will be present alongside the local team.
Do not hesitate to contact us to meet us and discuss our activities.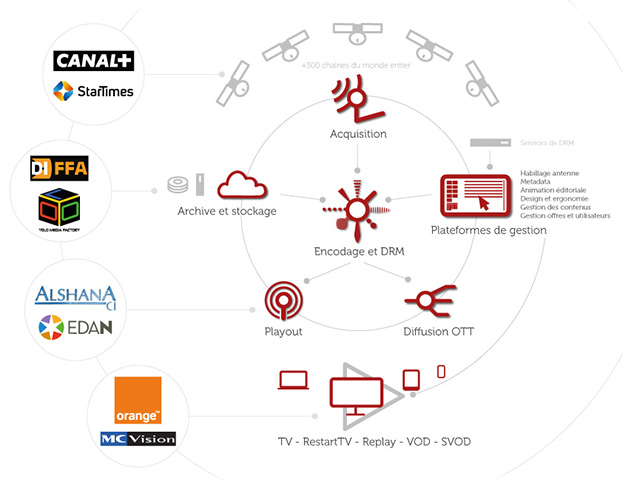 About Pixafrica: Pixafrica is the African subsidiary of Pixagility. Based in Abidjan, Pixafrica works for television channels, telecom operators and Internet players wishing to implement innovative new audiovisual services.