Thursday November 7th, 2019
Pixagility's President Ronan Lunven promoting Philippe Monzein to COO position.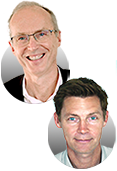 "I am pleased to announce the promotion of Philippe Monzein as Pixagility France's Chief Operations Officer.
This newly created position aims to unify the customer approach and make day-to-day operations more fluid for a better quality of service.
For the past 6 years, Philippe was the main contact for our customers and partners, he will now be responsible for the general management of the activity by ensuring the proper coordination of Technical, Operations, Pre-Sales and Projects departments. He also keeps control of the sales department with the recruitment of his successor in said department.
This new organization takes effect in November, and should enable Pixagility to meet the coming challenges more effectively and pursue its development in France, overseas and internationally."
Ronan Lunven
President of Pixagility
About Pixagility: Pixagility, new worldwide Hub for french-speaking and African contents, provides an innovative multi-services digital platform that helps its clients in optimizing the value of their video contents. Pixagility works with TV broadcasting companies, telecom operators, internet operators and any companies which own video contents.